Delicious dinner + drinks at Rainforest. Dinner 4.30-9pm, drinks and bar snacks til late. Come by and enjoy great food and great fun.
Soups
Seafood Chowder (GF)
Try our homemade creamy chowder, packed with seafood, served with garlic bread. GF available upon request. Order as a main for $28.50
$15.50
Starters, Sharers & Sides
Buffalo Cauliflower (V)
Tossed in Monsoon Spicy sauce, served with a homemade blue cheese dip. Vegan option available upon request.
$14
Sriracha Prawn Skewers (GF)
Sriracha marinated prawns, served skewered with a sweet chilli mayo dipping sauce.
$17.50
Cheesy Garlic Baguette (V)
Smothered in homemade garlic butter and mozzarella cheese.  
$12.50
Soft Summer Tacos (V available)
Lightly flamed Farrah's soft tacos, served with home pickled cabbage, avocado and cucumber salsa, and your choice of filling (2 per serve): Crumbed fish bites, drizzled with tartar sauce. BBQ pulled jackfruit, drizzled with aioli. BBQ pulled pork, drizzled with aioli.
$15 - $20
Crispy Pork Crackling
A basket of crispy pork crackling, served with apple sauce.
$8.50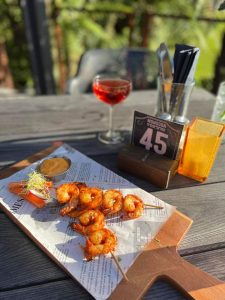 Gourmet Pizzas
Meatlovers
Ham, bacon, salami, pepperoni and BBQ sauce.
$25
Spicy Chorizo & Garlic Prawn
Pan fried garlic prawns, chorizo, red pepper, coriander and lemon.
$25
Salmon & Capers
Salmon, spinach, cream cheese, capers and lemon.
$25
Vegetarian
Tomato, mushroom, spinach, red onions, peppers, olives, feta and basil pesto.
$25
Extra Toppings
Extra Meat Toppings $4, Extra Veg toppings $3
All of our delicious 12" pizzas (8 slices) are made on a thin and crispy base, topped with our home made pizza sauce and grated mozzarella. Why not add your own ingredients from our extra toppings, half and half option also available.
Gluten free pizza bases and Vegan Cheese available for $3.00, ask our friendly wait staff.
Gourmet Burgers
Beef & Bacon Burger (GF)
Homemade beef burger served in a brioche bun, with bacon, cheese, lettuce, tomato, caramelized onions and mayo, served with fries.
$20.50
Mains
Ribeye 300 gram (GF)
Prime New Zealand beef, cooked to your liking, served with a choice of fries and salad or roast potatoes and seasonal vegetables, and a side of mushroom sauce or garlic butter. Add a fried egg for $2.
$37.50
Monsoon Signature BBQ Ribs
Succulent slowly braised half rack of pork ribs, smothered in our own homemade BBQ sauce, served with fries and coleslaw.
$30
Beer Battered Fish and Chips
Homemade crispy beer-battered Hoki, served with fries and salad.
$24.50
Cauliflower Steak (V) (GF)
Paprika spiced roasted cauliflower steaks, served with a charred corn salsa, sweet potato puree, and topped with chimichurri.
$25.50
Grilled Salmon Salad (GF)
Grilled fillet of New Zealand salmon, served on a bed of lettuce, cherry tomatoes and radish, with a mint and maple yoghurt dressing, topped with avocado and cucumber salsa.
$32
Slow Cooked Beef Cheek
Slow cooked beef cheek on a bed of mash potato and green peas, topped with gravy.
$26.50
Extras
Classic Fries (V)
Served with tomato and aioli sauce.
$8
Garden Salad
A crisp dressed salad of lettuce, tomato, cucumber and carrots.
$7.50
Happy Endings
Chocolate Mudcake
Rich and warm chocolate cake, served with ice cream and cream.
$14
Crème Brulee
Classic Vanilla Crème Brulee served with ice cream and cream.
$14
Ice Cream Sundae
Creamy vanilla ice cream with your choice of strawberry, chocolate or caramel topping.
$11
Sticky Date Pudding
Delicious hot pudding served with ice cream, cream and a sticky toffee sauce.
$14
Kids Menu
Kids Cheeseburger & Fries
Classic with ketchup. Includes a soft drink and dessert.
$14
Fish & Fries
Homemade battered hoki with fries. Includes a soft drink and dessert.
$14
Kids Pizza
Ham & pineapple OR cheese & tomato. Includes a soft drink and dessert.
$14
Kids Sticky Ribs
Comes with classic fries. Includes a soft drink and dessert.
$14
Kids Pasta
In a homemade tomato ragu. Includes a soft drink and dessert.
$14
Dessert
Choice of Ice Cream Sundae - strawberry, chocolate, or caramel, OR Fruit Salad with vanilla ice cream.
12 years and under
Fries can be substituted for vegetables or salad at no cost!