Accounting for 10% of New Zealand's landmass, yet only 1% of its population, the mighty West Coast of the South Island is a striking destination. While it's not big on residents, it is big on scenery. The West Coast is where you come for some of the most impressive scenery New Zealand has to offer.
The West Coast stretches from Karamea in the north to Jackson Bay in the south, a distance of 600 kilometres in total. Expect to see New Zealand on show, with scenery that includes the towering Southern Alps, glistening glaciers, snowy peaks, wild seas, rocky beaches strewn with driftwood and of course, the lush, dense rainforest of Westland's National Parks. The forest here feels so ancient, you expect to see a dinosaur wander past.
Make it a destination
The West Coast shouldn't be considered a drive. It is a destination. Schedule in a good amount of time to explore all that's on offer.
The big question is – how long should I spend on the West Coast?
Not an easy question to answer! There's no perfect amount of time for a West Coast experience as it will depend on how many activities you'd like to do while you're here. The drive from Greymouth to Queenstown could be done in 7 hours non-stop if you were that way inclined. But that's not what the West Coast is about.
If you want to take your time and linger on the West Coast, a good itinerary will go something like this:
Starting at the top – Karamea & Westport
Ideally, allow 2 days to explore Westport and Karamea. Even though the road to Karamea is a dead-end, there's nothing lifeless about this chilled out settlement nestled beautifully between national park and the coast. Karamea is 96 kilometres from Westport.
The Great Coast Road
Covering a distance of around 90 kilometres between Westport and Greymouth, The Great Coast Road was voted one of the Top 10 Coastal Roads in the world by Lonely Planet. It's not hard to see why. The jaw-dropping journey takes in the townships of Charlestown, Punakaiki, Barrytown, Rapahoe and Rununga.
Glacier Country
To do justice to Glacier Country give yourself at least 3 days here, more if you can. With incredible scenery everywhere you turn, access to walking tracks and, of course, the glaciers, you won't be stuck for things to do. It's worth having a day or two up your sleeve if the weather turns bad and you can't do a glacier hike or scenic flight.
The southern end – Haast & Jackson Bay
When you're all glaciered out, head out of town to begin the journey towards Queenstown or Wanaka. But it's not over yet. The journey to Haast and Haast Pass is truly spectacular journey and one worth savouring. From Haast, take a detour to Jackson Bay. Like Karamea, the road to Jackson Bay is a no-exit road but you will be rewarded for taking the detour.
West Coast treasures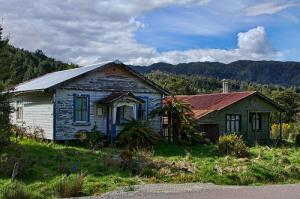 46 Cron Street
Franz Josef Glacier 7886
New Zealand