Heading to Franz Josef Glacier and feeling the need to do something truly amazing, terrifying… and exhilarating?
Then it's got to be a skydive.
And not just any skydive. Local company Skydive Franz gives its lucky (and brave) customers the chance to do a jump with a very special claim to fame.
Daredevils and thrill-seekers should get themselves to Skydive Franz for a once in a lifetime opportunity to jump from 19,000 feet. At that height, you are jumping the Southern Hemisphere's highest tandem skydive.
Not a bad way to make your friends back home jealous.
Not impressed? If you wanted to go one better and do the world's highest-ever skydive you would have to get yourself a space-travelling helium balloon, travel 39 kilometres into the stratosphere…Felix Baugmanter-style.
But we're guessing you're probably not keen to don a spacesuit and fall at speeds that break the sound barrier. The next best option would have to be the incredible experience of jumping from 19,000 feet with the team at Skydive Franz.
Operating since 2010, Skydive Franz is Franz Josef Glacier's only skydive operation. With a perfect safety record, the company offers one of the most spectacular places on the planet to throw yourself out of a plane.
Choose your freefall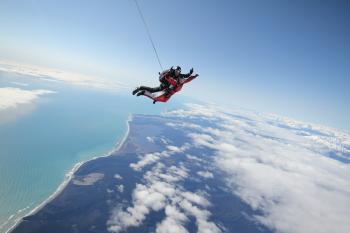 Skydive Franz gives you the option to jump at 13,000ft, 16,000ft or 19,000ft. To put that in perspective, Aoraki/Mt Cook (New Zealand's highest peak) is 12,000ft high. Aoraki/Mt Cook is not far from the drop zone, so you'll get a good view of its snowy peaks as you plummet towards earth, screaming with delight.
The big daddy, Skydive Franz's 19,000 foot jump gives you over 75 seconds of freefall as you travel (or fall) at around 200km per hour (120 miles per hours).
Anyone doing a jump over 12,000 feet is provided with an oxygen mask in the plane. So, you'll get to feel a little bit like Felix Baugmantier.
Jumping on a clear day, the views are truly spectacular and give you the opportunity to savour everything that is glorious about the mighty West Coast.
If you can manage to open your eyes, you'll see the hundreds of glaciers that are sprinkled amongst the Southern Alps, the braided rivers that flow into the Tasman Sea and the lush, dense rainforest of Westland Tai Poutini National Park. As Skydive Franz says, the higher you go, the more you see.
Our top tip: Schedule in a few days at Franz Josef Glacier. There's a good chance the West Coast weather will cause cancellations to activities like skydiving, flightseeing or glacier heli-hiking. Make sure you have some extra time in your itinerary if you need to re-schedule activities.
Franz Josef from above
There's no better way to appreciate the majestic landscapes of Glacier Country than from high above. A scenic flight over Franz Josef Glacier or Fox Glacier gives a unique perspective of just how huge these frozen rivers of ice really are. And a glacier heli-hike is the best way to get yourself straight into the amazing landscapes.
If you're rained out for a day, there are plenty of wet-weather day activities to enjoy around Franz Josef Glacier. Check out the West Coast Wildlife Centre, Glacier Hot Pools or local art galleries. For a full range of great activities to do at Franz Josef Glacier, check out our Things To Do page.