For a small country at the bottom of the world, New Zealand punches well above its weight in the sightseeing stakes. It seems hardly a week goes by without NZ appearing in a top ten list by an esteemed travel publication. Whether it's for our jaw-dropping scenery, world-class adrenaline activities, or ranking as one of the most liveable countries, it seems someone is always singing the praises of our little country, or our little town.
Our roads frequently make an appearance in top ten lists, like the world-class coastal drive from Westport to Franz Josef. The Tranz-Alpine train journey is considered one of the top six train journeys in the world and you can catch that one just up the road in Greymouth.
NZ: Best Travel Destination On The Planet
A recent accolade singing New Zealand's praises is making news around the world, and if you're contemplating a New Zealand visit, a read of this article may be just what's needed to grab the passport and get those flights booked.
Readers of Telegraph Travel in the UK recently voted little old New Zealand as the best travel destination on the planet. The poll claims to be 'the most comprehensive, wide-ranging and reliable travel survey in Britain.' So, for a little country at the bottom of the world to reach the top spot is not a bad achievement. Even more impressive is the fact that this is the fourth year in a row that New Zealand has won the accolade. Yes, that's right, the fourth time!
The publication goes on to list 26 reasons why New Zealand is the best country in the world. Top of the list is the scenery, identified as the number one reason New Zealand is such a sought after holiday destination. Apparently it was Douglas Adams, author of 'The Hitchhiker's Guide to The Galaxy' who described the south island scenery as "… one of the most astounding pieces of land anywhere on God's earth, and one's first impulse, standing on a cliff top surveying it all, is simply to burst into spontaneous applause. It is magnificent." Adams was talking about Fiordland in this quote, but we can imagine he would have broken into song and dance after casting his eyes upon the remarkable Westland National Park.
There are 25 further reasons why New Zealand is top dog, including the haka, 90-mile beach in the North Island, the ancient kauri trees in the Waipoua Forest, New Zealand's Maori culture and its uncanny resemblance to Middle-earth.
Coming in at number 24, was the unique experience of flying over glaciers. As one of the best ways to take in the dramatic glaciers and mountains of the Southern Alps, it's not surprising that this once-in-a-lifetime experience made the list.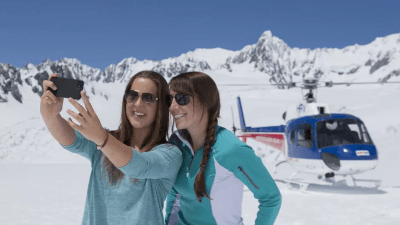 46 Cron Street
Franz Josef Glacier 7886
New Zealand