Earlier this year the Franz Josef Glacier Guides team moved into the brand new Glacier Base Building.
Seeing as Glacier Base is one of our closest neighbours, we like to pop in to say hi now and then.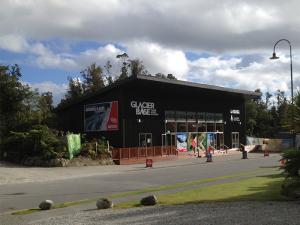 There's always something going on at Glacier Base. It's the departure point for Franz Josef Glacier Guides trips as well as the entrance into Glacier Hot Pools. There's also a whole display of information panels at Glacier Base that cover everything from the history of Franz Josef Township to glaciology.
We thought we'd brush up on our general knowledge!
Here are five amazing facts we learnt when we visited Glacier Base.
Why does it rain so much on the West Coast.
We knew the West Coast got a lot of rain, we didn't know that it added up to around 5 metres per year. And if you think that's a lot, how about the 10-15 metres of precipitation that falls as snow up on the glacier neve (the glacier catchment area) each year? The West Coast is subject to a phenomenon called Orographic Lift. Prevailing westerly winds collect moisture as they travel over the Tasman Sea, towards the Southern Alps. As the moisture-laden air is pushed up over the high alpine peaks, it cools and drops huge amounts of moisture as rain, or snow.
Why steep glaciers are the best glaciers Franz Josef Glacier is one of the steepest and fastest moving glaciers on the planet.
Its narrow, steep shape is perfectly formed for ice flow. Franz Josef Glacier funnels ice from a height of 3,000 metres to 240 metres in just under 11 kilometres. Most glaciers move at an average speed of around 50 cm to one metre per day, Franz Josef Glacier has been known to move at up to 4 metres per day. It's no wonder they say no hike on Franz Josef Glacier is the same from one day to the next.
Why Franz Josef Glacier is retreating
Franz Josef Glacier has been in a period of retreat since 2008, losing around 800 metres of length in the past 8 years. In 2012, a dramatic change occurred to the Franz Josef Glacier when a hole developed in the ice causing major ice loss to the terminal face. To put this in perspective, Franz Josef Glacier has retreated around three kilometres since the late 1880s. There have been a number of periods of advance during this time, with the greatest advance occurring between 1983 and 1999.
Big moments in Franz Josef Glacier history
The West Coast has a fascinating history that covers mountaineering, gold mining and tourism. Here are a couple of major moments in Franz Josef Glacier's past. In 1865, gold was first discovered in South Westland, leading to the establishment of roads, ports and a small community at Waiho (Franz Josef). In 1911, the first car made it to Franz Josef from Hokitika. The journey took 12 hours. In 1934, scenic flights first began taking visitors for flights over Franz Josef Glacier. In the 1980s, helicopters were first used to access the glacier following a period of retreat that caused huge challenges for accessing the glacier by foot.
Before gold….
Before gold, tourism and access roads Māori came to Westland in search of pounamu (greenstone). There is archaeological evidence of "pounamu factories" suggesting that Māori settlements existed in Jackson Bay and Bruce Bay 800 – 1000 years ago. So, make sure you pop in and see the Glacier Base building for yourself while you're in Franz Josef Glacier.